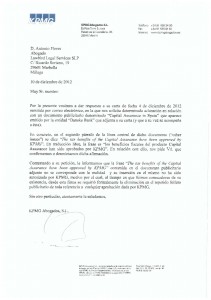 And so it was, that, in relation to an Equity Release fraud case in Spain against Danske Bank Luxembourg, the defendant held the following:
We conducted our due diligence according to the internal rules and procedures Danske Bank Luxembourg has in place. As part of this process, the Capital Assurance product, sold on the basis of a tax-planning proposition, was fully cleared by KPMG. We therefore reject the claimant's action for it is groundless, without merit, and we will defend ourselves vigorously.
Fully cleared by KPMG? What does that really mean in Danske Bank Luxembourg banking jargon?
Mr. Klaus Mønsted Pedersen: have you read the attached document by KPMG Madrid, denying that they ever gave the blessing to the cash-predatory tax-evading Capital Assurance Product, ever authorized your company to use their name and in fact, formally requested you to eliminate from the brochure any reference to the product being approved by KPMG?