For Sparlolland, previously Finansbanken A/S, selling a 2,5 million Euros Equity Release product to a Marbella-based artistic painter was a matter of discussion over a cofee, or two, at the Guadalpin Hotel.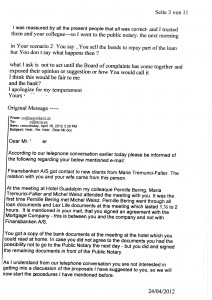 We cannot even imagine what sort of bullshit was the poor man fed by Maria Tremurici-Falter, Marbella-based retiree that occupies her time doing anything from advising people on how to multiply their money by making the right decisions to organizing charity dinners, Michael "Mich" Weisz, a man that ran The Mortgage Company and is now awol,  and Pernille Bering, from the bank.
The unfortunate life-changing meeting lasted, according to the bank, between 1.5 hours and 2 hours, time enough for a painter devoted to German expressionism to digest a course on Danish-bond historic performances, Luxembourg-based Lex Life insurance wrappers taxation and the real meaning of Security Coverage Ratios.
Next morning, he was sitting in front of a Notary Public, these useless social parasites who actually do manage to do their work correctly: check that your face matches that of your passport.