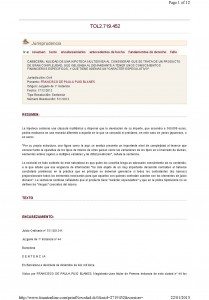 The mortgage loan referred to, tagged as "highly speculative" by the Court, was declared void due to the bank not having advised the parties of the real risks.
The Court concluded that the bank was under the obligation to provide clear, transparent and adequate information in respect to the product, but failed to do so. At the most, according to the ruling, the bank offered "verbal advice", which was then considered to be "…not consistent with a statutory mandate to provide a precise and clear explanation of the risks associated to the product".
The ruling insists on the uncontested fact that Caixa Catalunya glossed over certain keys aspects of the risks of currency exchange rates and interest rates, and the impact this could have on the mortgage.
Which takes us to the following questions:
How would this Court view Nordea Bank Luxembourg's "Home Sweet Home" pre-contractual information package?
And what about Rothschild's "conservative approach" or rather, the "mortgage that would not be looked upon as one?"