Sydbank is the worst Equity Release offender, by far, in terms of lack of regulatory compliance for the laws in Spain.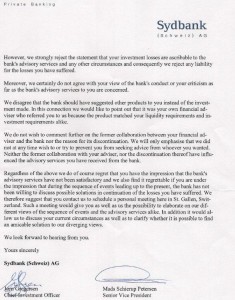 The list below shows the shocking contempt displayed by Sydbank for the host country's laws when offering the tax-evading Equity Release to British unencumbered properties owners living in Spain:
Never registered in Spain, at all, to provide any service, banking or otherwise.
Opened office in Fuengirola without authorization.
Used unregulated unqualified agents to capture customers.
Sold tax-cheating products pretending they were fully regulated for Spain, when this was totally untrue.
Offered customers Belize-based companies to conceal the investments from the Spanish authorities, a la Lord Ashcroft, operating from the Sydbank Switzerland base, but made it out to be that it was the customer who was instructing the bank to do so.
All of this has already cost them dearly: the Sydbank branch who signed the attached last page of the risible missive was closed down following the spate of damning articles, openly accusing the entity of tax evasion, published in the Danish press.